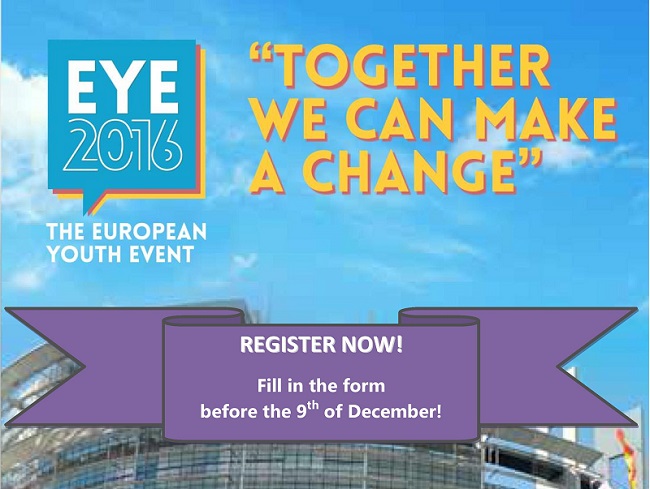 Hey you, salam alaicom!
Feel concerned about what's going on in Europe? Want to speak up and let your bright ideas shine through? Then prepare yourself: the EYE2016 is coming in Strasbourg and you'll surely like it!
Sounds great, right? But...what is the EYE by the way?
- EYE stands for European Youth Event
- It is a political youth-led event that takes place every year at the European Parliament in Strasbourg
- It combines high-level political debates, thematic workshops, educational activities, cultural animations and live music into a unique political and festive mix creating a unique, fun and meaningful experience of participation
- It aims to put youth issues at the forefront of the political debate, engaging with young people and demonstrating the positive contribution they make to society.
The first edition in 2014 gathered 6000 dynamic engaged young people during 2 days in a festive and political event.
Now that you know what it's all about, it's time to join in! ;)
15 people will have the chance to take part in this incredible weekend with FEMYSO! To apply you must be:
- Willing to be a positive contribution to Europe
- Currently or formerly involved in a youth organisation
- Between 18 and 30 years old
- Available on the 20th and 21st of May and willing to travel to Strasbourg
- Interested by European issues
- Preferably outspoken (you're not afraid to say what you think!)
- Able to speak English
Now is YOUR chance to live a once in a lifetime experience at a European institution. To apply, please fill in this form before the 9th of December. For any question, please send us an email at info@femyso.org.
To know more about the EYE, please visit http://www.europarl.europa.eu/european-youth-event/en/home/home.html
We hope your application will be successful!