The Active Citizens study session took place in Sarajevo, Bosnia and Herzegovina from the 12th to the 16th of August 2021. This in-person training brought together more than 20 young participants from 12 European countries.
The study session focused on allowing young European Muslims to gain social entrepreneurship skills that empowered them to create community-driven projects that will be implemented in their local communities. They were also educated on their basic human rights, and how to address the potential infringement of these rights, upon their becoming changemakers and community organisers.
The study session saw the initiation of five projects, these projects focused on the areas of Social Entrepreneurship and Community Activism. Through these projects, participants showed their creative execution of the skills and tools used to fully engage and captivate their stakeholders and target audience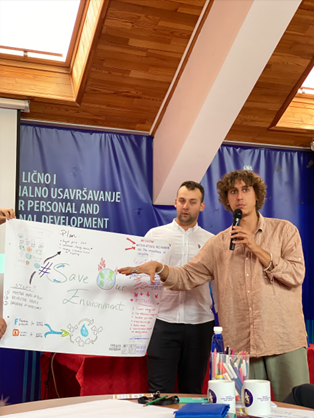 As an immediate follow-up to this groundbreaking project, we were honoured to host a number of our participants (11) in a historic delegation of young European Muslims to the European Youth Event 2021 (EYE), where they advocated for the importance of ensuring that the racial biases in employment and entrepreneurship were addressed by European leaders and institutions.