Brussels, 16 July 2021  
At FEMYSO, we are utterly outraged at the political decision of the European Court of Justice (ECJ), which once again gives a free pass to employers to ban the Islamic headscarf. This is nothing less than a blatant reduction of the rights of visibly Muslim women in the EU, and thus nothing less than the institutionalisation of Islamophobia.  
Disguised under a layer of 'neutrality', the judgement in the joined cases C-804/18 and C-341/19, Wabe and Müller, on the right to wear religious clothing (headscarf) at work, solely panders to the prejudices of customers and employers by favouring racism over the right to non-discrimination. Indeed, the ECJ prioritises the financial interests of employers and prejudiced customers as more important than the rights of those who are perpetually made vulnerable and kept in a vicious circle of discrimination. This case demonstrates that Muslim lives are a justifiable exception to otherwise robust anti-discrimination legislation in the EU.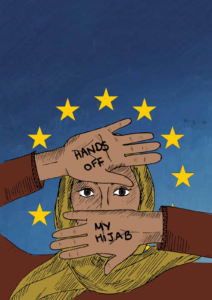 Instead of acting as a powerful voice for the social and human aspect of European integration and protecting the rights of those who are most marginalised in our "Union of Equality", this ruling provides a legal basis for further discrimination against Muslim Women in the job market. In simple terms, the prejudices of some are being placed above the human rights of others.
This political act adds to the hostile environment that Muslim communities face across our region. The 
Impact of islamophobia on our lives both in a structural sense – of which this is an example – and everyday prejudice, cannot be understated, with Muslim women most often as the biggest victims who.
We call on the European Court of Justice to revise this judgement, and EU Member States to stop the obsession with Muslim women's bodies. We call on the EU and all its institutions to recognise the impact of Islamophobia on its citizens and to work alongside civil society to tackle this disease.
Notes   
FEMYSO (est. 1996) is a network organisation for 33 Muslim youth and student organisations across 20 European countries, and is the leading voice for European Muslim youth, developing and empowering them, and working to build a more diverse, cohesive and vibrant Europe. 

 

Graphic design credits: Limma Ali / Ali.Illustrate

The Times, 15 July 2021 "Hijab can be banned at work, rules EU court"

https://www.thetimes.co.uk/article/hijab-can-be-banned-at-work-rules-eu-court-g8px0mlms?utm_medium=Social&utm_source=Twitter#Echobox=1626347525

 

 

Al Jazeera, 15 July 2021 "Top EU court rules hijab can be banned at work"

https://www.aljazeera.com/news/2021/7/15/top-eu-court-rules-hijab-can-be-banned-at-work

 

 

For more information or requests please email

media@femyso.org

.