FEMYSO brought together a delegation of young people from over 14 countries to engage with key European institutions, in order to contribute to the discussions that affect our lives as young people in Europe.
Our delegates came from all over Europe, from Scotland to Albania, Gibraltar to Ukraine, Finland to Italy. The positive energy and excitement they brought to learn more about the European institutions and to provide concrete solutions is evidence of the power of young people to bring positive changes to our societies.
Unfortunately our efforts were aggressively undermined and attacked by the malicious actions of a far-right youth delegation at the European Youth Event (EYE).
These actions ranged from verbal harassment of vulnerable members of our delegation, ambushing our workshops with large mobs and aiming to dominate discussions around racism by shouting down at fellow participants.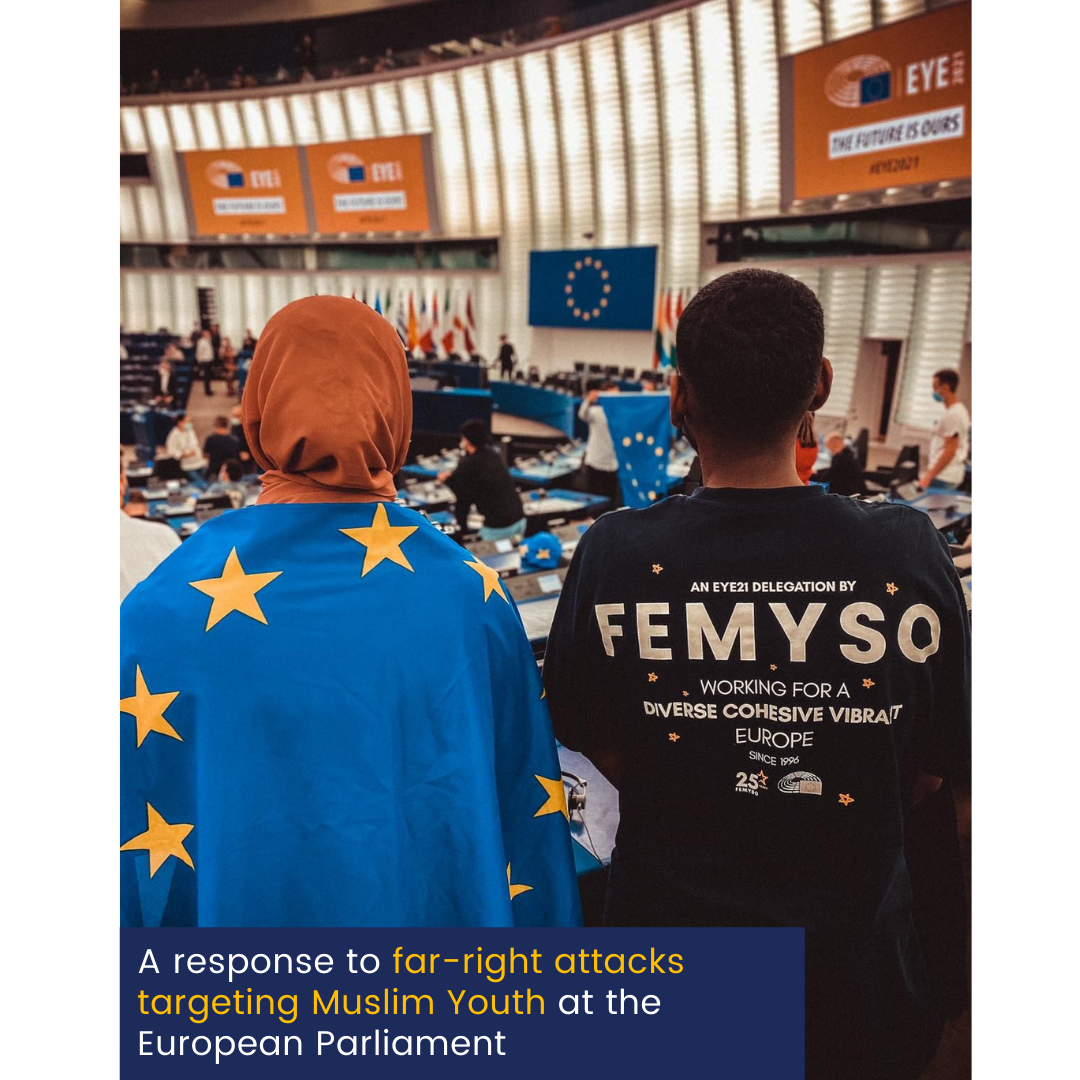 This pattern of behaviour was reflected online with pictures of our participants uploaded with hashtags like #stopimmigration. With far-right Members of European Parliament inciting hatred towards our young people.
When these actions led to members of our delegation to feel unsafe, the senior leadership of FEMYSO carried out measures in coordination with the EYE organisers in order to guarantee the safety of our delegates.
We are thankful for the efforts of the European Parliament and the EYE team for their swift reaction to the numerous incidents.
We would like to reiterate, that the harmful rhetoric used by far right leaders have an impact on the lives of young Muslims, as it did today. We call upon the leaders, policy makers and decision makers of European institutions to ensure that Muslims feel safe in these spaces and that hate speech is not tolerated.
Undeterred by fascists, we will continue our work towards creating a more diverse, cohesive and vibrant Europe for all.
[ENDS]
Notes
1. FEMYSO (est. 1996) is a network organisation for 32 Muslim youth and student organisations across 20 European countries, and is the leading voice for European Muslim youth, developing and empowering them, and working to build a more diverse, cohesive and vibrant Europe.
2. For more information or requests please email media@femyso.org