Following the release of an investigatory expose by The New Yorker Magazine, the origins of myths constantly used to attack our organization have finally been exposed as being part of a 5.7 million Euro campaign funded by a foreign entity.  
Whilst this information is not new to our organization, the willingness of a mainstream outlet like the New Yorker to publish this story is a clear indication of the legitimacy of the points we have been making for a number of years. 
In the article it is revealed that as part of an orchestrated campaign against FEMYSO, a Swiss PR agency ALP executed several targeted actions. ALP created the character Tanya Klein, a fictional journalist and hired a freelance writer to create content under this alias. "Klein" published several articles outlining the myth that FEMYSO was part of the Muslim Brotherhood. Some of these articles were featured or cited by reputable news outlets and have now been deleted from the record without acknowledgment of the fictitious nature and the harm done through their publication – see an example below. 
2019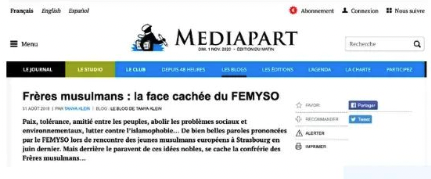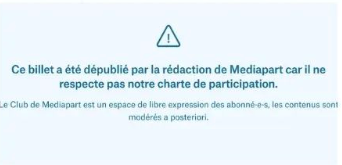 The conspiracy theory propagated by Klein which implies that our organisation is the youth wing of the Muslim Brotherhood relies heavily on the work of Lorenzo Vidino – a right-wing academic funded by ALP. The New Yorker article raises questions as to whether he placed financial incentives above academic rigor. As such, questions must be also asked about how such a figure is still engaged with seriously by our policymakers. Unlike our policymakers, several colleagues have severed ties with Vidino since the publication of the article.  
FEMYSO President Hande Taner said: "The plan was simple; it was to bury our organization and make it a pariah which could not be engaged with. For what reason, we simply do not know, given that FEMYSO is a fully volunteer-led organization empowering minority youth and campaigning against Islamophobia and other forms of racism. 
With important elections due to take place over both sides of the Atlantic in the coming 18 months, our policymakers need to get serious about tackling misinformation, regardless of the financial incentive to remain quiet. Our democracies must not and cannot be bought." 
We would like to offer the ability for dialogue with those that took part in the mass disinformation campaign in the form of private or public meetings to discuss specific accusations and next steps. Furthermore, our easily available FAQ page can provide further clarifications on our organization and its governance.  
We call upon our European leaders to investigate this matter in full and without any delay. In the face of all that seek to prevent our mission, we remain committed to working towards a more diverse, cohesive and vibrant Europe for all.