Once again FEMYSO was incredibly proud to bring together a delegation of 100 young people from over 22 countries to engage with key European institutions. The objectives of this delegation were to promote intercultural dialogue and exchange, as well as to encourage the participation of young people from diverse backgrounds in the democratic process by demystifying and bringing them closer to European institutions. 
Unfortunately, members of our delegation were subjected to racist and islamophobia abuse, by far-right activists sponsored to attend by far-right MEPs. This abuse took place in the online and offline space and was truly threatening to the young Muslims in attendance.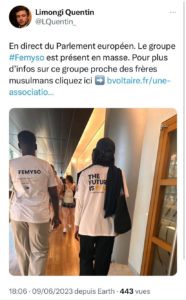 Sadly, this is not the first time our membership has been attacked in this manner, at the last event in 2021 a far-right delegation harassed members of both the FEMYSO delegation and that of #DiasporaVote to the extent that extra security was provided upon the departure of these vulnerable young people to ensure this could not continue. This deplorable act of aggression was rightly condemned by the leadership of European institutions, with a letter signed by 152 European parliamentarians calling for an inquiry into this incident submitted shortly after.
We call upon the leadership of the host institutions to:
Condemn this deplorable behaviour and rhetoric in a public statement
Produce an action plan on measures that can be taken to address the threat of these actions which have now taken place at multiple EYE's
Revoke the ability for those who engage in abusive behaviour to take part in such an event.
FEMYSO and our membership remain undeterred by those who sought to divide and exclude Muslim and other marginalised youth from public life. We will continue with our mission to work towards a diverse, cohesive and vibrant Europe for all.

[ENDS]
Notes
1. FEMYSO (est. 1996) is a network organisation for 31 Muslim youth and student organisations across 21 European countries, and is the leading voice for European Muslim youth, developing and empowering them, and working to build a more diverse, cohesive and vibrant Europe.
2. For more information or requests please email media@femyso.org